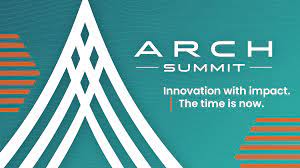 Dear Members,
This autumn, Luxembourg hosts one of Europe's biggest and most exciting tech and innovation events. Arch Summit takes place at LuxExpo – The Box on 26 – 27 October and brings together industry leaders and tech enthusiasts to discuss the power of technology to positively impact society and our planet.
The 2-day event features two days of networking, inspiration and learning, including:
an exciting line-up of keynote speeches, discussion panels and masterclasses on a wide range of tech topics. Check out the full line-up of speakers here
key event tracks including Business Transformation, Supply Chain, Health, Financial Services, Cybersecurity and Energy
over 1,500 founders, startup enthusiasts, corporates, angel investors, VCs, and media from across Europe
a dedicated app for networking opportunities to explore new business ideas and partnerships
startup competitions hosted by Luxinnovation GIE for their 13th edition of the Fit4Start programme
The BCC is proud to offer members a free ticket. To book yours, please contact info@bcc.lu for booking instructions and free code.
To help you get the most out of the experience, the BCC will organise member activities at the event, so stay tuned for an update in September with a schedule of exciting things to see and do.
In the meantime, you can watch footage of the previous Arch Summit in 2019 HERE and get further information at the Arch Summit website.
Best regards,
BCC Secretariat