Over 5 days, The British Chamber of Commerce for Luxembourg's Leadership Forum 2021 welcomed experts, thought leaders and a large audience interested in debating and exploring the topic of "Building a Sustainable Future".
Great participation and engagement, both virtually and in person
The events were all very well received with lively discussions and great audience questions.
While the majority of the events took place virtually, we were thrilled to be able to welcome participants in person to the final event which took place at the Luxembourg Chamber of Commerce – our first face to face event since the beginning of the Covid-19 crisis! We were honoured that H.E. Ambassador Fleur Thomas agreed to open the Leadership Forum, stressing the importance of COP26 and the UK's role in and commitment to climate change, green recovery, and creation of sustainable jobs.
How can we build a sustainable future?
Over the five days of the Forum, ESG specialists from a variety of businesses and organisations came together to discuss what is surely one of the most pressing topics of the 21st century: how to build a sustainable future in which we can all thrive and prosper.
With the UK hosting COP26, the UN Climate Change Conference in Glasgow from October 31 to 12 November this year, the BCC opted to use this year's Leadership Forum to shine a spotlight on the topic of sustainability. Given the extent of the topic, each of the BCC's working groups organised an event to offer their perspective, specific to their specialty.
Crucial topics discussed
The event topics included presentations on the impact of ESG on business taxation, as well as panel discussions on whether or not financial services are meeting their sustainability goals, and considerations about what ESG means from a practical point of view for businesses trying to implement sustainability goals.
We also heard about Luxembourg's Sustainable Business Principles from the Luxembourg Chamber of Commerce's Luc Frieden. Our final panel event explored the area of leadership and asked the question if, and how, people, planet & profit are sustainable?
Still quite some work to do
While our speakers agreed that companies are beginning to implement ESG measures and take action based on EU legislation, the question remained if progress was being made fast enough? Some crucial factors, such as data, measurement and reporting criteria are still not universally agreed upon and make it hard to hold companies accountable.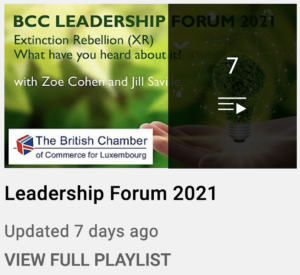 You can find recordings of all of the events on the BCC's YouTube Playlist.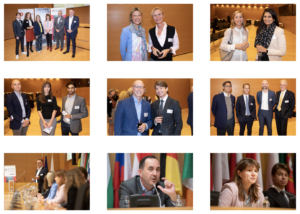 Missed the in person final session of the Forum? Stroll through our picture gallery here.
We would like to thank all of our speakers who took the time to contribute their views and expertise on ESG, as well as all of the BCC's working groups who put a lot of time and energy into their events. Last but not least, a big thank you to our sponsors, Alter Domus & Luxdates, and our media partner Delano.
Join the BCC's new Sustainability Working Group
We are also thrilled to announce the creation of a new working group at the BCC focusing on the topic of sustainability (discover our working groups here). If you would like to join this new group and help drive forward the sustainability agenda with us, then please get in touch at info@bcc.lu