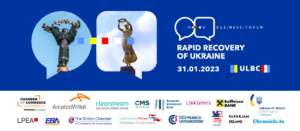 You are kindly invited to participate in the Business Forum organized by the Ukraine-Luxembourg Business Club (ULBC) on 31 January 2023 in Luxembourg City, followed by a Gala Charity Dinner in the evening.
This full-day Luxembourg – Ukraine Business Forum, themed "RAPID RECOVERY OF UKRAINE", aims to add value to the broader discussions on Ukraine reconstruction. As well as exploring opportunities for partnerships between European, Luxembourgish and Ukrainian business, it will leverage Luxembourg's Financial Centre to define the necessary prerequisites and instruments for investors to deploy private capital for Ukraine's reconstruction and recovery.
The conference will be held under the patronage of the Prime Minister's Office ,  with participation of Mr. Etgen, the President of Luxembourg Parliament, Ms. Lenert, Deputy Prime Minister, Minister of Health of Luxembourg , Mr. Fayot, Minister of Economy of Luxembourg, in cooperation with the Luxembourg Chamber of Commerce, and headline sponsors headquartered in Luxembourg:
ArcelorMittal (the main sponsor, and the largest foreign direct investor in Ukraine), the European Investment Bank (the world's largest multilateral lender, with major operations in Ukraine),  Clearstream (which offers the only infrastructure-to-infrastructure settlement link to Ukraine), and some others whom we thank for their tremendous support.
Participation in the Forum is FREE of charge.
Please note that in order to attend the Business Forum and/or Gala Charity dinner, attendees should fill in the registration using the link below before 27 January 2023
BUSINESS FORUM "RAPID RECOVERY OF UKRAINE" – 31 JANUARY 2023
See attached documents below for further information.
For more information and booking for the Gala Dinner please contact: info@weareulbc.com or evgenia.paliy@weareulbc.com