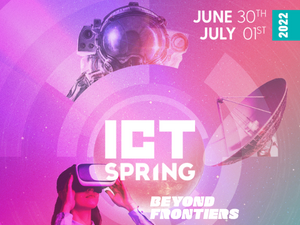 ICT SPRING 2022
GLOBAL TECH CONFERENCE / JUNE 30  JULY 1, 2022
ICT Spring is a Global Tech event featuring high level conferences, exhibitions and demonstrations of the latest tech trends and innovations.
It welcomes an array of international professionals and offer them a unique opportunity to deepen their Digital knowledge, capture the value of the fast-growing FinTech, drive innovation across industries, pierce the secrets of IT Security and explore the impact of Space technologies on terrestrial businesses.
Over 2 days you will be able to share views with 180+ international speakers, discover the latest innovations, explore outstanding opportunities from Luxembourg, your gateway to Europe, attend convivial & fun networking moments and much, much more.
See attached brochure and visit ICT Spring for full agenda details and to book your ticket.