BCC Sustainability Group: The business case for gender equality in building a sustainable future.
In business, 'Sustainability' is an interesting word; on one hand we might refer to a 'sustainable financial growth', i.e. ensuring that our businesses grow at a rate that can be maintained over time, but on the other hand we might also refer to a 'sustainable business', i.e. a business that has a minimal negative impact or even a positive effect on the environment, community and society at large.
In fact, the two concepts can be extremely interconnected, especially in consideration of the mounting pressure that consumers put on corporations to embrace a more (socially and environmentally) sustainable approach to financial growth.
However, when thinking about sustainability most of us think about the environment and tend to forget the social and community aspects of the word. This happens particularly often with regards to ESG funds, where the Social and Governance factors are significantly overlooked in favour of environmental-only aspects.
This is not only dangerous for the effects that it can have on society, but it can also be detrimental to the success of the environmental efforts currently put in place to reverse our negative footprint.
It is in this context that KnowThyBrand Women was born: to help create a more sustainable future for future generations, but starting from a social standpoint: inclusion, and specifically gender inclusion.
If you are interested in knowing more about the link between gender inclusion and environment protection, here are 3 studies that demonstrate why we should support women if we care about the environment.
Female Managers Are Better for the Planet, BIS Study Finds
Girl power: The climate fix that's more effective than renewables
Moreover, the 'sustainable' doughnut is an easy and visual way to see the interconnection between environmental and social sustainable goals
https://doughnuteconomics.org/about-doughnut-economics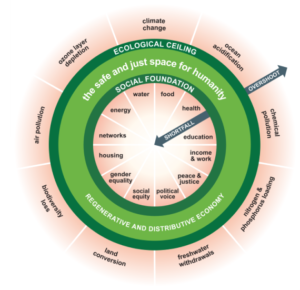 But gender inclusion is not an issue for my business

As the founder and CEO of KnowThyBrand Women, this is the most common response I receive when I simply mention what my business is about: "In my business we don't have problems with gender inclusion, half of our staff is female".
Unfortunately, data from businesses overall the world, including Luxembourg, tells us a very different story:
In Luxembourg only 28% of all managers are women. (Eurostat 2021)
Women represent 53% of the entry-level banking workforce but less than one-third at the SVP and C-suite levels. (McKinsey 2021)
In Europe only 16.7% of ICT specialists are women. In Luxembourg, women representation drops to 13.7%. (Digital Luxembourg 2022)
Women spend at least 2h more than men doing daily unpaid work. (Oxfam 2020)
In Luxembourg, women barely make up a fifth of board members. (PWC 2021)
And yet
Women and innovation: a simple increase of 2.5% of women representation in Leadership can lead to a percentage point gain in Innovation revenue (BCG 2021)
Companies with strong female leadership generate a 10.1 percent return on equity per year compared to a 7.4 percent return on equity per year for those without strong female leadership. (Pipeline 2020)
Companies with the highest number of female directors on their board had a 42% return on sales. (Pipeline 2020)
So, what can businesses do about it?
When working with organisations that are truly committed to fostering an inclusive culture, my recommendation is a 3-step approach:
1. Understand what the real situation in your business is.

Simply having 50% of female talent doesn't mean that the women in your organisation have the same opportunities of career advancement as their male counterparts. Start looking at the percentage of women at entry level, then at early management positions, then middle management, and so on all the way up to board level. Are you still seeing an equal split?
In fact, the divide starts early in the career years, and you can find out more about the so called broken rung here: https://www.mckinsey.com/featured-insights/diversity-and-inclusion/women-in-the-workplace
On top of career progression, other factors to consider include, but are not limited to:
Wages, benefits and pay equity
Recruitment and hiring process
Flexible work and care support
Harassment policies
Micro aggression policies
At KnowThyBrand Women we just launched a free self-assessment tool to help organisations get a better understanding of what works and what doesn't with their gender inclusion efforts, or lack of.
2. Make gender inclusion a genuine priority

More and more companies are investing in gender inclusion programmes and activities, but real change will only happen if these are part of an overall strategy that is directed from the top-down. Boards, CEOs and the C-suite must believe in the importance of the strategy and lead the change, otherwise the risk is that all investments will simply turn into a tick-the-box exercise and "pink washing".
A cultural shift within the company might be required, so it is critical to start from the core values of the company and its mission to create a truly inclusive employer brand. This won't be a simple manifesto but a true commitment that is brought to life at all steps of the employee's journey within the organisation: from recruitment to onboarding, from career development to performance reviews, from learning and development to exit.
Practical support for gender inclusion

Once the strategy is set, there are many programmes that can be put in place to foster gender inclusion. At KnowThyBrand Women we recommend at least the following:
Ensure pro-diverse HR policies (recruitment +salaries + promotions, etc)
Leadership programmes
Personal branding programmes
Networking opportunities and master mind groups
Mentorship
Education for career advancement
Education about gender inclusion for men and women
Flexible work
Support for working parents
Much more
Most importantly… Track, track, track! Only by tracking the results of your gender inclusion activities can you ensure that you are focusing energy, resources and time on effective programmes.
If you need help with Gender Inclusion and understand the potential benefits to your business of having a diverse leadership, please get in touch with us via hi@knowthybrand.com.
Giulia Iannucci
Social Entrepreneur
KnowThyBrand & BCC Sustainability Group member