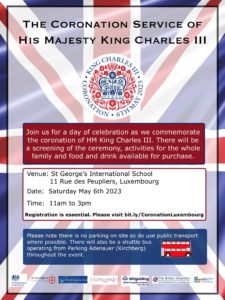 We invite you to join us for a day of community celebration as we commemorate the coronation of HM King Charles III
Guests can look forward to a screening of the coronation, delicious food and drink stands, and fun-filled activities for the entire family. Come and be a part of this historic moment and enjoy a day filled with fun and excitement hosted by the British communities of Luxembourg on Saturday 06 May from 11:00 – 15:00 at St. George's International School, 11 Rue de Peupliers, Luxembourg.  Please register here: https://bit.ly/CoronationLuxembourg.
Please Note: there is no parking on site so do use public transport where possible. There will also be a shuttle bus operating from Parking Adenauer (Kirchberg) from 13:00 onwards.