We promised you some Easter Magic? Well, here it is!
Join us for "The BCC Magical Easter Lunch" on 22 April and enjoy an exclusive on-site performance by our special guest, Mr DAVID GOLDRAKE.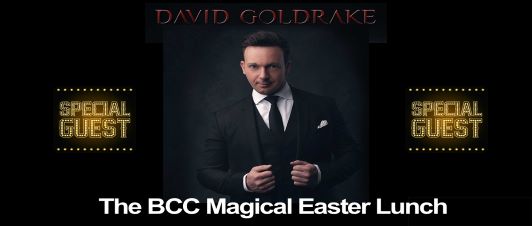 Known as the 'International Man of Mystery,' David's artistic versatility and ability to speak 7 languages fluently make him a unique magician, speaker ad actor who has inspired audiences all over the world. Daivd Goldrake has performed for royalty, international celebrities and fortune 500 companies. His performing venues have ranged from the Moroccan desert to the world's largest indoor stage at the Grand Sierra Resort in Reno, NV.
"The BCC Magical Easter Lunch" will take place on Friday 22 April 2022 from 12:00 at the Hémicycle, Kirchberg. We are delighted to welcome as our special guest speaker the British Ambassador to Luxembourg, H.E. Fleur Thomas.
The event will commence with aperitifs which will be served from 12:00, followed by a three-course meal with wine.
Members and non-members are welcome, in case of exceptional demand, priority will be given to members' registrations so you are advised to book early to avoid disappointment.
The British Chamber wishes to thank Greenings International for their generosity in sponsoring this event.
The price, €80 for BCC Members and their guests and €100 for Non-Members, will include the aperitifs, a three-course meal with wine, followed by coffee.
To book a table (for ten), please contact the secretariat at info@bcc.lu.
PUBLIC TRANSPORT LINKS THAT STOP NEAR THE HEMICYCLE:
Tram - Stop Kirchberg Europarlament
Buses - 12 or 16
Velo Station - Philharmonie
NEAREST PARKING: THE 'PLACE DE L'EUROPE' CAR PARK.
PLEASE NOTE, CANCELLATIONS MUST BE RECEIVED IN WRITING NO LATER THAN NOON FRIDAY 15 APRIL 2022, WHERE NO WRITTEN CANCELLATION IS RECEIVED WE WILL NOT BE ABLE TO REFUND FOR THE COST OF THE EVENT.
Please let us know if you have any particular dietary requirements.