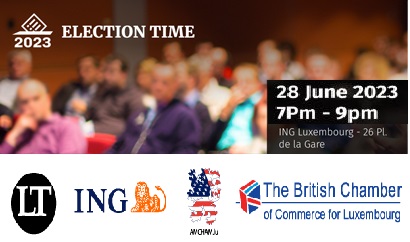 SAVE THE DATE: Join us for the second in a series of Town Hall Meetings: "2023 Election time" featuring Party Leaders. More information to follow.
The British Chamber of Commerce in partnership with Luxembourg Times and the American Chamber of Commerce have the pleasure of inviting you to attend this debate in person. This will take place on Wednesday 28 June at 19:00 at ING Luxembourg, 26 Pl. de la Gare, L-1616 Luxembourg. The discussion will conclude after one hour, after which there is a chance to enjoy drinks and canapes with the other guests.
We are very much looking forward to seeing you at the event.
The British Chamber wishes to thank ING Luxembourg for kindly hosting and sponsoring the event in their premises.
This event is FREE of charge