Leading Towards the Success of Tomorrow!
Are you and your organisation ready to position yourself in a new era of challenges and opportunities?
The British Chamber of Commerce for Luxembourg and it's People & Leadership Group are delighted to welcome Liselotte Lyngsø, top futurist at this year's high profile Leadership Forum on 19 October at Banque de Luxembourg at 18:30.
While technological advancements seem to create an avalanche of opportunities for the future of work, it is too naive to think everything will be easier. Liselotte Lyngsø is a futurist and a founding Partner of Future Navigator, her visualisation of the future pictures a complex workspace, where time and space are thrown up into the air.
"We are going to have a Metaverse, and we are going to spend a lot of time in virtual reality. At some point we will be able to hug each other, taste and smell through our avatars and holograms, and when this happens, we will move more and more into that world," Liselotte says.
Don't miss this outstanding event!
Register today!
About the Speaker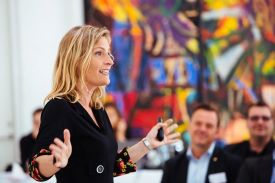 Liselotte Lyngsø is Founding Partner in Future Navigator. She is inspiring and enthusiastic and her ability to create powerful images and inspire people to align toward shared goals is mind-blowing. She will spin your head around and show you possibilities, which you never even dreamed of. Yet she will never leave you in the unknown – if you are honest about building a better tomorrow. Her big passion in life is to train people to visualize the future.
For more than 18 years, Liselotte has travelled the world as a keynote speaker and moderator.
Liselotte is a valued consultant for several global organizations and companies.
She has recently been appointed to the Lifeboat Foundation – Safeguarding Humanity as a futurist advisor.
Also, she is in the prestigious group of international thought leaders who will select the topics and inform the production of the NMC Technology Outlook and she is a Board Member of Specialisterne – enabling a million jobs for people with autism.
For more information and inspiring video's visit: https://futurenavigator.com/portfolio-item/liselotte-lyngso/
The British Chamber wishes to thank Alter Domus and Luxdates for their generosity in sponsoring this event and Banque de Luxembourg for generously hosting the event is its premises.
The evening will begin at 18:30 with registration. The conference is scheduled to begin at 19:00. To close the evening drinks and canapés will be provided and, as always, the opportunity to meet and discuss with your fellow Chamber Members and our guest speaker.
The cost of attending this event is: Sustaining Members, FREE, Business & Individual Members, €20 and Non-Members, €40
PLEASE NOTE CANCELLATIONS MUST BE RECEIVED IN WRITING NO LATER THAN 12:00 NOON ON MONDAY 17 OCTOBER 2022. WHERE NO WRITTEN CANCELLATION IS RECEIVED WE WILL REGRETTABLY HAVE TO INVOICE YOU FOR THE COST OF THE EVENT.