Andrew Notter Appointed as Chairman of the British Chamber of Commerce for Luxembourg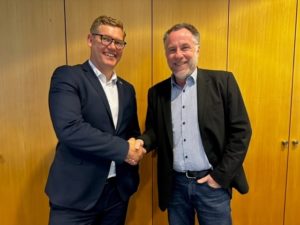 Luxembourg City, May 24, 2023 – The British Chamber of Commerce for Luxembourg is delighted to announce the appointment of Andrew Notter as its new Chairman. With a proven track record of leadership and a deep understanding of the Luxembourg business landscape, Andrew brings a wealth of experience to the role, positioning the Chamber for continued growth and success.
As Chairman, Andrew will play a pivotal role in advancing the Chamber's mission to follow and influence developments in the economic and business world in Luxembourg affecting members' interests, contributing to making Luxembourg an attractive place for British business and Britain an attractive place for Luxembourg business, at the same time promoting and strengthening business ties between the two nations, maximising opportunities, and navigating potential challenges.
Andrew brings a distinguished career spanning over two decades within the human resources industry in Europe. His extensive knowledge of the Luxembourg financial sector and cross-border commerce will be instrumental in driving the Chamber's strategic initiatives and enhancing its position as a leading English-speaking forum for contact and communication among decision-makers, opinion formers and participants in Luxembourg's local and international business communities.
Expressing his enthusiasm, Andrew stated, "I am honoured to assume the role of Chairman of the British Chamber of Commerce for Luxembourg. The Chamber plays a vital role in supporting the business community in Luxembourg. I look forward to working with the Chamber's esteemed members, the council, and our partners to further strengthen our ties and create a thriving business environment."
In addition to his new role as Chairman, Andrew serves as a Partner of Anderson Wise, a prominent recruitment and executive search firm in Luxembourg, where he has consistently demonstrated his strategic vision, strong leadership, and commitment to fostering business growth. His comprehensive understanding of the Luxembourg financial ecosystem and experience in human resources will undoubtedly prove invaluable to the Chamber and its members.
Mr. Daniel Eischen, outgoing Chairman of the British Chamber of Commerce for Luxembourg, expressed his confidence in Andrew's appointment, saying, "Andrew brings a wealth of expertise to the role of Chairman. His extensive experience in the financial sector, combined with his dedication to fostering strong business relationships, will undoubtedly drive the chamber forward and deliver significant value to our members. I wish him great success in this new role."
The British Chamber of Commerce for Luxembourg looks forward to a prosperous tenure under Andrew's leadership, further strengthening the ties between the United Kingdom and Luxembourg and continuing to provide exceptional support and resources to its members.
About the British Chamber of Commerce for Luxembourg:
The British Chamber of Commerce for Luxembourg is an independent, non-profit organization representing the interests of British and international businesses in Luxembourg. Founded in 1992, the Chamber aims to promote bilateral trade, foster business relationships, and provide a platform for networking and knowledge sharing among its members.
Related Articles:
Delano 20/06/2023 – "Creating a community": Andrew Notter takes over as BCC chair
Chronicle 17/06/23 – Andrew Notter Elected Chair of British Chamber in Luxembourg
Lux Times 25/05/23 – British Chamber of Commerce appoints Notter as Chairman
Paperjam 25/05/23 – Chairman, The British Chamber of Commerce for Luxembourg Andrew Notter
For media inquiries, please contact:
Rebecca Kellagher
Office Manager
British Chamber of Commerce for Luxembourg
Email: rebecca.kellagher@bcc.lu "