BCC Leadership Forum: "AI in Business: a Threat or Opportunity?" 18 October Banque de Luxembourg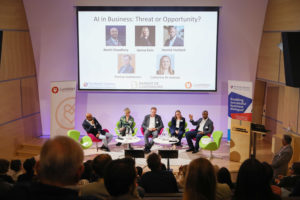 Luxembourg was the site for a compelling exploration of Artificial Intelligence's (AI) evolving landscape in recent days. And some big questions about the opportunities and threats of AI were asked.
The Banque de Luxembourg graciously hosted the annual British Chamber of Commerce (BCC) Leadership Forum on the evening of 18th October with the generous support of the sponsor LuxDates.
The evening illuminated the intricate relationship between humanity and AI, raising pertinent questions about the future.
Whether it heralds an opportunity or poses a threat was answered clearly: It heralds both, now
See related news articles: Delano and Chronicle.lu and gallery.