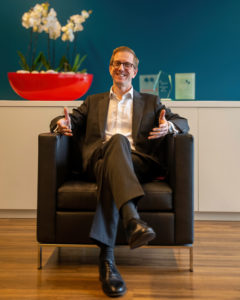 The British Chamber of Commerce for Luxembourg's new global campaign, "𝗪𝗵𝗲𝗿𝗲 𝗕𝘂𝘀𝗶𝗻𝗲𝘀𝘀 𝗕𝗲𝗹𝗼𝗻𝗴𝘀" is a campaign that aims to provide a powerful platform for businesses to come together, drive growth, and make a real difference in the market. As part of this campaign, we will spotlight our members who have also answered three short questions for us!
We asked Peter Brown | Head of Luxembourg | Aztec group
𝗪𝗵𝗮𝘁 𝗺𝗼𝘁𝗶𝘃𝗮𝘁𝗲𝗱 𝘆𝗼𝘂 𝘁𝗼 𝗷𝗼𝗶𝗻 𝘁𝗵𝗲 𝗕𝗿𝗶𝘁𝗶𝘀𝗵 𝗖𝗵𝗮𝗺𝗯𝗲𝗿 𝗼𝗳 𝗖𝗼𝗺𝗺𝗲𝗿𝗰𝗲 𝗟𝘂𝘅𝗲𝗺𝗯𝗼𝘂𝗿𝗴?
As a British business that has had a base in Luxembourg for 16 years, we feel the British Chamber of Commerce is a valuable platform for companies to share experiences, create opportunities and also stay abreast of what's happening locally as well as in the greater region. At the same time, seeing that many of our clients are UK-based, we also want to strengthen and nurture our strong relationship with the UK and the BCC is at the heart of fostering that relationship.
𝗪𝗵𝗮𝘁 𝗶𝘀 𝘁𝗵𝗲 𝗵𝗼𝘁𝘁𝗲𝘀𝘁 𝘁𝗼𝗽𝗶𝗰 𝗶𝗻 𝘆𝗼𝘂𝗿 𝗯𝘂𝘀𝗶𝗻𝗲𝘀𝘀 𝗿𝗶𝗴𝗵𝘁 𝗻𝗼𝘄?
Sustainability, digitalisation and the potential impact of AI will remain at the top of the agenda for any company over the next years, creating new avenues for growth. On the other hand,  the current economic conditions will have a short term drag on growth but the biggest challenge in our industry remains finding and retaining the right talent with increasingly complex and marketable skills in a very competitive talent market. While these are clear challenges there are also numerous opportunities. For example, the recent ELTIF 2.0 legislation opening up private assets to retail investors, and an increasing demand from fund managers and investors for more insight-driven reporting to support decision-making and cater to new areas such as ESG.
𝗪𝗵𝗮𝘁 𝗶𝘀 𝘁𝗵𝗲 𝗯𝗲𝘀𝘁 𝗽𝗶𝗲𝗰𝗲 𝗼𝗳 𝗯𝘂𝘀𝗶𝗻𝗲𝘀𝘀 𝗮𝗱𝘃𝗶𝗰𝗲 𝘆𝗼𝘂 𝗵𝗮𝘃𝗲 𝗿𝗲𝗰𝗲𝗶𝘃𝗲𝗱?
I strongly believe in the famous quote by Peter Drucker: "culture eats strategy for breakfast". To me, this means that creating an inclusive and collaborative culture is one of my top priorities, because culture is what drives employee loyalty and their desire to deliver a great client experience. That's why I invest in our people and mentor them, helping them to grow, develop, and achieve their goals. I also embrace change and new experiences, which has been very helpful throughout my career. The industry has changed a lot since I started out and Aztec has grown rapidly over the last five years, providing many opportunities to face new challenges and opportunities.