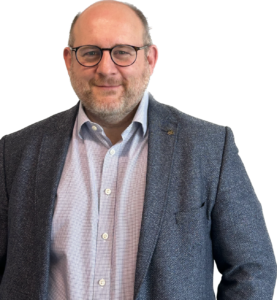 The British Chamber of Commerce for Luxembourg's new global campaign, "𝗪𝗵𝗲𝗿𝗲 𝗕𝘂𝘀𝗶𝗻𝗲𝘀𝘀 𝗕𝗲𝗹𝗼𝗻𝗴𝘀" is a campaign that aims to provide a powerful platform for businesses to come together, drive growth, and make a real difference in the market. As part of this campaign, we will spotlight our members who have also answered three short questions for us!
We asked Craig Blair | Country Head | Franklin Templeton  
𝗪𝗵𝗮𝘁 𝗺𝗼𝘁𝗶𝘃𝗮𝘁𝗲𝗱 𝘆𝗼𝘂 𝘁𝗼 𝗷𝗼𝗶𝗻 𝘁𝗵𝗲 𝗕𝗿𝗶𝘁𝗶𝘀𝗵 𝗖𝗵𝗮𝗺𝗯𝗲𝗿 𝗼𝗳 𝗖𝗼𝗺𝗺𝗲𝗿𝗰𝗲 𝗟𝘂𝘅𝗲𝗺𝗯𝗼𝘂𝗿𝗴?
Franklin Templeton have been present in this market since 1991.  Although a global firm with headquarters in the US, our DNA in Europe has a strong British influence and so joining the Chamber as a Sustaining Member recognises that and our commitment to the business community in Luxembourg.
𝗪𝗵𝗮𝘁 𝗶𝘀 𝘁𝗵𝗲 𝗵𝗼𝘁𝘁𝗲𝘀𝘁 𝘁𝗼𝗽𝗶𝗰 𝗶𝗻 𝘆𝗼𝘂𝗿 𝗯𝘂𝘀𝗶𝗻𝗲𝘀𝘀 𝗿𝗶𝗴𝗵𝘁 𝗻𝗼𝘄?
There are many themes and fashions in our industry at present. The core business topics for myself are, and will always be, how we deliver outcomes for our investors to help them meet their life objectives and be the employer of choice where people can come to work and be their authentic selves.
𝗪𝗵𝗮𝘁 𝗶𝘀 𝘁𝗵𝗲 𝗯𝗲𝘀𝘁 𝗽𝗶𝗲𝗰𝗲 𝗼𝗳 𝗯𝘂𝘀𝗶𝗻𝗲𝘀𝘀 𝗮𝗱𝘃𝗶𝗰𝗲 𝘆𝗼𝘂 𝗵𝗮𝘃𝗲 𝗿𝗲𝗰𝗲𝗶𝘃𝗲𝗱?
Change is a constant.  Don't rest on your laurels and be open minded to feedback and new concepts to stay relevant.