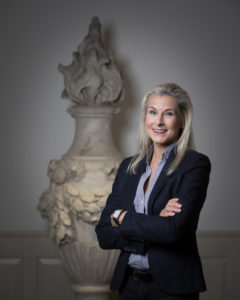 OUR MEMBER'S PERSPECTIVE – WHERE BUSINESS BELONGS
We asked Simône VAN SCHOUWENBURG | Business Developer – Expat Services Manager | Spuerkeess
The British Chamber of Commerce for Luxembourg's new global campaign, "𝗪𝗵𝗲𝗿𝗲 𝗕𝘂𝘀𝗶𝗻𝗲𝘀𝘀 𝗕𝗲𝗹𝗼𝗻𝗴𝘀" is a campaign that aims to provide a powerful platform for businesses to come together, drive growth, and make a real difference in the market. As part of this campaign, we will spotlight our members who have also answered three short questions for us!
Our questions to Simone:
𝗪𝗵𝗮𝘁 𝗺𝗼𝘁𝗶𝘃𝗮𝘁𝗲𝗱 𝘆𝗼𝘂 𝘁𝗼 𝗷𝗼𝗶𝗻 𝘁𝗵𝗲 𝗕𝗿𝗶𝘁𝗶𝘀𝗵 𝗖𝗵𝗮𝗺𝗯𝗲𝗿 𝗼𝗳 𝗖𝗼𝗺𝗺𝗲𝗿𝗰𝗲 𝗟𝘂𝘅𝗲𝗺𝗯𝗼𝘂𝗿𝗴?
Joining the British Chamber of Commerce Luxembourg was motivated by several compelling factors. Firstly, the chamber's reputation as an exceptionally dynamic organization dedicated to fostering discussions on relevant and current business topics through events and seminars greatly appealed to me. Being part of a community that actively engages with pressing issues and encourages thoughtful discourse is invaluable.
Moreover, the chamber's membership base played a pivotal role in my decision. It boasts a diverse group of professionals, each bringing their unique perspectives and expertise to the table. This diversity not only enhances networking opportunities but also ensures a high standard of members, creating an environment conducive to growth and learning.
𝗪𝗵𝗮𝘁 𝗶𝘀 𝘁𝗵𝗲 𝗵𝗼𝘁𝘁𝗲𝘀𝘁 𝘁𝗼𝗽𝗶𝗰 𝗶𝗻 𝘆𝗼𝘂𝗿 𝗯𝘂𝘀𝗶𝗻𝗲𝘀𝘀 𝗿𝗶𝗴𝗵𝘁 𝗻𝗼𝘄?
As for the hottest topic in my business at this moment, it revolves around talent acquisition, particularly in relation to the housing burden. Luxembourg's economic dynamism has attracted professionals from all over the world, leading to increased demand for housing. This, in turn, has placed considerable pressure on companies to provide attractive housing solutions for their employees. Balancing competitive employment packages with the challenges of finding affordable and suitable housing is a complex puzzle that many businesses, including mine, are currently grappling with.
𝗪𝗵𝗮𝘁 𝗶𝘀 𝘁𝗵𝗲 𝗯𝗲𝘀𝘁 𝗽𝗶𝗲𝗰𝗲 𝗼𝗳 𝗯𝘂𝘀𝗶𝗻𝗲𝘀𝘀 𝗮𝗱𝘃𝗶𝗰𝗲 𝘆𝗼𝘂 𝗵𝗮𝘃𝗲 𝗿𝗲𝗰𝗲𝗶𝘃𝗲𝗱?
In terms of the best piece of business advice I've received, it can be interpreted in two ways. First, the recommendation not to seek housing on the other side of the border highlights the importance of choosing a location that aligns with your professional and personal goals. Striking the right balance between work and life can significantly impact one's overall experience.
For more information on WHERE BUSINESS BELONGS