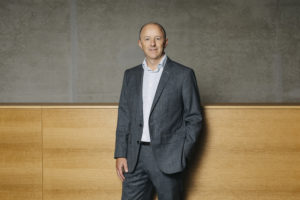 OUR MEMBER'S PERSPECTIVE – WHERE BUSINESS BELONGS
We asked Dave Sparvell | Chief Executive Officer | Swissquote Bank Europe
The British Chamber of Commerce for Luxembourg's new global campaign, "𝗪𝗵𝗲𝗿𝗲 𝗕𝘂𝘀𝗶𝗻𝗲𝘀𝘀 𝗕𝗲𝗹𝗼𝗻𝗴𝘀" is a campaign that aims to provide a powerful platform for businesses to come together, drive growth, and make a real difference in the market. As part of this campaign, we will spotlight our members who have also answered three short questions for us!
Our questions to Dave:
𝗪𝗵𝗮𝘁 𝗺𝗼𝘁𝗶𝘃𝗮𝘁𝗲𝗱 𝘆𝗼𝘂 𝘁𝗼 𝗷𝗼𝗶𝗻 𝘁𝗵𝗲 𝗕𝗿𝗶𝘁𝗶𝘀𝗵 𝗖𝗵𝗮𝗺𝗯𝗲𝗿 𝗼𝗳 𝗖𝗼𝗺𝗺𝗲𝗿𝗰𝗲 𝗟𝘂𝘅𝗲𝗺𝗯𝗼𝘂𝗿𝗴?
Swissquote Bank Europe has historic ties to the United Kingdom. The company was previously owned by a UK firm. Many of our clients are from the UK or live in the UK. On top of that, I have a personal connection to the UK through my background.
𝗪𝗵𝗮𝘁 𝗶𝘀 𝘁𝗵𝗲 𝗵𝗼𝘁𝘁𝗲𝘀𝘁 𝘁𝗼𝗽𝗶𝗰 𝗶𝗻 𝘆𝗼𝘂𝗿 𝗯𝘂𝘀𝗶𝗻𝗲𝘀𝘀 𝗿𝗶𝗴𝗵𝘁 𝗻𝗼𝘄?
Business is booming for Swissquote Bank Europe, and we are busy prioritising our various expansion plans.
𝗪𝗵𝗮𝘁 𝗶𝘀 𝘁𝗵𝗲 𝗯𝗲𝘀𝘁 𝗽𝗶𝗲𝗰𝗲 𝗼𝗳 𝗯𝘂𝘀𝗶𝗻𝗲𝘀𝘀 𝗮𝗱𝘃𝗶𝗰𝗲 𝘆𝗼𝘂 𝗵𝗮𝘃𝗲 𝗿𝗲𝗰𝗲𝗶𝘃𝗲𝗱?
I would revert to Ed Clark (former president and chief executive officer of TD Bank Group) on this question – "Hire people smarter than you."
For more information on WHERE BUSINESS BELONGS